The University of Alabama, fraternity and sorority life community is pleased to have three honor societies on campus, responsible for recognizing excellence in scholarship, leadership, and loyalty and commitment to fraternity/sorority values.
Gamma Sigma Alpha
Gamma Sigma Alpha was founded at the University of Southern California on November 9, 1989, by a group of scholastic achievers representing various fraternities and sororities dedicated to the advancement of higher education and academic accomplishment. Led by Beth K. Saul, USC's visionary Sorority Advisor, a national board was established the following year to promote the organization's ideals on campuses across the country. Gamma Sigma Alpha quickly grew to over 190 chapters in a little more than a decade. Today, this honor society has more than 215 chapters and recognizes nearly 2,000 members of fraternities and sororities each year.
Order of Omega
Order of Omega is a leadership honor society for members of Fraternity and Sorority organizations. Order of Omega recognizes juniors and seniors who have exemplified high standards in the areas of scholarship, leadership, involvement within their respective organization and within the Fraternity/Sorority, campus, and local community. Members are selected from the top 3% of students at each institution. To date, over 500 chapters have been chartered throughout North America, each sharing the common goal of recognizing the many outstanding student leaders at their institution.
2021-2022 Order of Omega Officers
President: Ward Smith, Sigma Nu
Vice President: Ryan Lundgren, Pi Kappa Phi
Treasurer: Madison Dox, Alpha Chi Omega
Secretary: Katie Arrington, Alpha Gamma Delta
Advisor: Kimberly Scott
The Order of Omega Greek Awards Ceremony and Banquet was held Tuesday, April 14, 2021 at the North River Yacht Club. All applications for awards and membership were due by 4 p.m. on Wednesday, February 26, 2021. For questions or concerns regarding about the Order of Omega Greek Awards Ceremony or application, please contact Ward Smith.
2021 Order of Omega Awards and Applications
Rho Lambda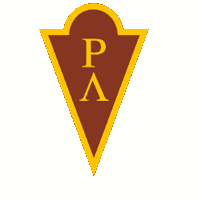 Rho Lambda, the National Sorority Leadership Recognition Society, was founded at the University of Miami as a local group in 1962 under the direction of Dean Louise P. Mills.
The Greek letters Rho Lambda stand for Panhellenic Leadership. Those who are leaders light a torch in the darkness for others to follow, and the flame is the symbol of Rho Lambda. Although membership was originally intended for women whose organizations belonged to Panhellenic, any sorority woman is now eligible for membership as long as she meets the membership selection criteria.
The purpose of Rho Lambda is to honor those women within the sorority community who have exhibited the highest qualities of leadership and service to their Greek community and their sorority. They are women who have furthered the ideals and principles of the Greek community throughout their years of sorority affiliation.
2022-2023 Rho Lambda Officers
President: Lilly Beth Glenn, Kappa Kappa Gamma
Vice President: Mary Elizabeth Vincent, Delta Gamma
Treasurer: Alex Howard, Phi Mu
Secretary: Carrye Ann Rainer, Alpha Delta Pi
Advisor: Abby Wallace
The application for the 2023-2024 class of Rho Lambda is open now and will close Sunday, April 9 at 11:59 PM CST. Membership eligibility is as follows:
An overall GPA of 2.5
Only active members in their junior or senior year are eligible. They must have been initiated, active members of their sorority for at least two full academic semesters.
Transfer students will be eligible for membership after one semester at UA.
Full-time undergraduate students at the University