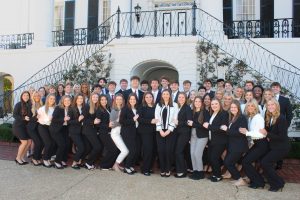 The Greek Ambassadors are a group of students selected to serve as official ambassadors for the Greek Community at The University of Alabama. Representing all 4 councils at UA, Greek Ambassadors provide prospective students with insight into the Greek Community.
This unique program enables potential students at the University to meet with a sorority or fraternity member, hear about their experience in the Greek Community, and ask any questions.
Greek Ambassador tours can only be scheduled as part of an official campus visit. If you are interested in meeting with a Greek Ambassador, please notify your Admissions Recruiter. For questions and/or concerns about the Greek Ambassador program, please contact our office at 205-348-2693 or ofsl@ua.edu.
2023 Greek Ambassadors Executive Board
President: Tucker Gibbons
Executive Vice President: Paten Kidd
Vice President of Membership: Shannon O'Keefe
Vice President of Education: Becca Gray
Secretary: Hughes Thomas
Treasurer: Virginia Webb
Director of Public Relations: Emma Katherine Dykes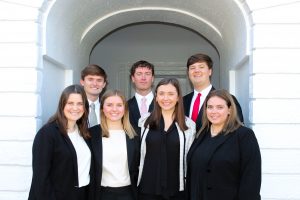 Greek Ambassadors are chosen through a competitive interview process conducted by the Greek Ambassadors Executive Council each October. All members, new and returning, must go through the interview process each year. Members are required to meet the following criteria:
Cumulative grade point average of 2.75 or higher.
Full time enrollment as an undergraduate student at the University of Alabama.
Involvement in other UA activities or organizations.
Ability to participate in bi-weekly Monday night meetings at 7:30 pm and have availability to give tours during the week.
Willingness to learn materials about the University of Alabama Greek Community and to keep up with current information about its growth and development.
Good oral communication skills and the ability to work with diverse groups of individuals
Comply with Greek Ambassador Bylaws.
Attend Greek Ambassadors Convocation on Sunday October 15th 2023 at 6 pm in the Student Center Ballroom. Attire is Business Causal.
All membership applications should be printed, with the proper materials attached, and turned into the Office of Fraternity and Sorority Life (Student Center 2500) by Friday October 13th 2023 at 2 pm. No application will be accepted after the deadline. 
Please feel free to contact that Greek Ambassadors at greekamb@ua.edu or call the Office of Fraternity and Sorority Life at 205.348.2693 if you have further questions.