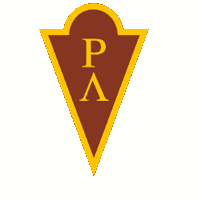 Rho Lambda, the National Sorority Leadership Recognition Society, was founded at the University of Miami as a local group in 1962 under the direction of Dean Louise P. Mills.
The Greek letters Rho Lambda stand for Panhellenic Leadership. Those who are leaders light a torch in the darkness for others to follow, and the flame is the symbol of Rho Lambda. Although membership was originally intended for women whose organizations belonged to campus Panhellenics, any sorority woman is now eligible for membership as long as she meets the membership selection criteria.
The purpose of Rho Lambda is to honor those women within the sorority community who have exhibited the highest qualities of leadership and service to their Greek community and their sorority. They are women who have furthered the ideals and principles of the Greek community throughout their years of sorority affiliation.
Rho Lambda will be re-colonizing the Gamma Pi chapter at the University of Alabama, Fall 2015.  Please contact, Rho Lambda President, Lindsay Rieland with any questions.